Athens Taxi By Yanni
Athens Taxi; Not your average taxi services…, Yanni Athens Taxi has been serving the transportation and private tours needs of Athens for over 35 Years. We specialize in taxi private tours, and transfers to and from Athens airports for both individuals and groups, with the accent on a courteous and thoroughly professional personal service at affordable prices. 24 hours a day. 7 days a week.
We'll do the best we can to ensure that your booking, private tour, and transfer go as smoothly as possible. It includes an English-speaking driver with good knowledge of the history and culture of Greece, an air-conditioned vehicle tailored to the number of passengers, and the luggage requirements specified by you. An experienced driver /guide with proven customer service skills and extensive knowledge of the local area.
Yanni Athens Taxi
24 hours Athens taxi by Yanni / 7 days a week
Transfers from/to anywhere in the Athens area
Starting from/to Athens transportation anywhere in the mainland of Greece
Flat rates & modern trips
English-speaking drivers/guides
Comfortable, clean, and modern vehicles
Timely, dependable service
No surprises & extra costs
No waiting charges
No parking chargers
No extra luggage charges
fully insured and registered with the City – no "independents" or "gypsy cabs"
No shortage of cars or long waits in lines – we will have a car standing–by waiting at the airport just for you
Yanni Athens Taxi
No queuing charges, no uncertainties, fixed rates. It is easy to recognize the original and authentic Athens Taxi from the yellow color and the secure and comfortable transport.
We take you to your destination reliably and punctually, at a fixed rate. Our Yanni Athens Taxi takes you to the airport from your hotel, office, or home and carries you back after you have landed. We operate in Athens (Attica region) and also elsewhere in mainland Greece from Athens.
A 'Meet and Greet service is included when booking whereby the driver will be in arrival with the passenger's name or company name, whichever you prefer. A comforting thought, especially for first-time visitors in a foreign country.
If your flight is early or subject to delays, we will track your flight's progress and send your driver at the new expected time of arrival.
A lot of our work is corporate based so if you are booking a taxi for other people you need not worry, we will give them the professional quality service they would expect. We accept most major credit cards and debit cards and send receipts via email.
Yanni Athens Taxi also welcomes corporate account customers and, subject to credit references, we'll be happy to offer you a monthly invoicing facility or direct debit on our Athens airport taxi services.
Securely and safely to the destination, regardless of group size.
Yanni Charter Transports
Highest quality, trustworthy taxi services in our logo-free cars, for 1-17 persons. Our taxi services are fit for small groups, cruise taxi transfers, company or conference transports, or individual travelers. Our service is secure, friendly, and of the highest quality. You can always count on that the fixed rates are truly fixed.
When you want security, quality, and comfort for your transportation, choose Yanni Athens Taxi charter transport.
Yanni Welcoming Services
We'll meet your guests at the airport; take your group or single guest to the destination, quickly and securely.
Be sure that we welcome individual travelers or groups at the arrival hall with a signboard. Our drivers carry the baggage to the car and will be present regardless of any possible changes in the flight schedules.
When you want security, quality, and comfort for the welcoming and transportation of your guests, choose Yanni Athens  Taxi Welcoming Services.
Regular Taxi in Athens
We comply with the taxi rates approved by the Greek Ministry of Transport. Our advance booking price is 8€, which will be added to the final price of the transport.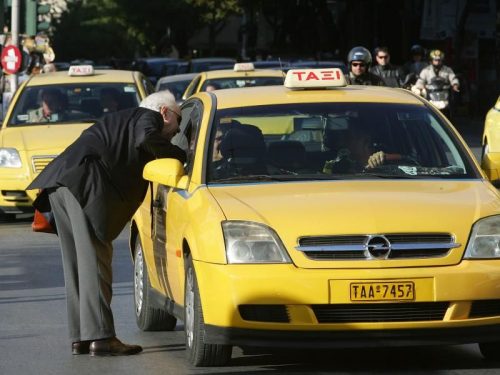 A Meet & Greet Service means that we offer a private door-to-door transfer service to and from Athens airport or cruise port for a charge of 7€.
Are we transferring you to an airport or cruise port, we will pick you up from your home, hotel, or business address and take you to the departure gate of your destination airport.
We constantly monitor the flights for a confirmed landing time. Even if your flight is due earlier or later than expected, our driver will meet you at the new, correct landing time. If your flight is canceled in advance, we will not dispatch the driver and will wait for further instructions from you.
Our Driver…
Our driver will meet you in the Arrivals Hall, 20 minutes after the flight has landed. If you would like the driver to meet you earlier or later than the standard 20 minutes, please email us with 12 hours' notice using the contact us form.
Our driver will use a greeting board to display the name of your choice; will assist you with your luggage to the vehicle.
The car park fee is paid for 1 hour from the confirmed landing time (unless otherwise agreed), and our driver will wait for 40 minutes from point of entry (chargeable) from the confirmed landing time. Further waiting time will incur additional charges. If no contact has been made with the passenger(s) by this time we will deem that you have "NO SHOWED". The job will be canceled and fully charged.
If you require more than 1 hour of wait time, please contact our office to inform us that you will be delayed. Further wait time and car park charges will incur after your initial 0,40 hour waiting time has elapsed.
To book an Athens Taxi please contact us
Regular Athens Taxi | General Info
Taxi rates (per km) in Athens €:
The flat rate at the start of the meter: 1.80 €
Rate per km inside the city limits (zone 1): 0.90 €
Rate per km outside the city limits (zone 2): 1.25 €
Waiting for time fee (per hour): 15.00 €
Minimum travel charge: 4.00 €
Night tariff (from 24:00 – 05:00): 1.25 €
To/ from Athens International Airport Eleftherios Venizelos: 4.00 €
Outward from Athens Port and railways and bus depots: 1.07 €
Baggage over ≥10 KG (22 lbs) each: 0.39 €
Fix rate to/from Athens Airport to/from Athens city center ring 40€ (05:00-23:00) & 50€ (23:01-04:59), and (05:00-23:00) & 75€ (23:01-04:59) fix rate 55€. All legal charges and tolls are included.
Fix rate to/from Athens Airport to/from Piraeus 55€ approx (05:00-23:00) & 85€ (23:01-04:59)
Wait time over 20 minutes is subject to agreement between driver and passenger
Rates apply to radio taxis:
Regular call for taxi pickup: 5.00 €
Taxi pickup by appointment: 4.00 € – 5.65€
Obligations:
The driver should carry the passenger's luggage from the pavement to the vehicle and vice versa.
The driver is not entitled to deny passengers a ride and cannot pick up extra passengers without your permission.
Passengers may request a waiting time of up to 15 minutes, or more if there is a serious reason.
Upon the passenger's request, the driver is obliged to issue a receipt stating the route and metered fare paid.
For scheduled pick-up service, you may call any of the taxi companies serving the greater Athens area
Read more about Yanni Athens Taxi Transfers